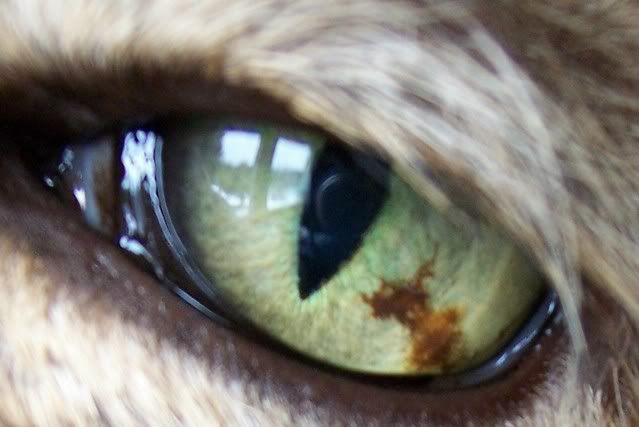 I need to make an appointment for Scruffy to see the ophthalmologist again. I take a picture of the left eye and the growth in it each time, for comparison. Today's picture has really upset me. It has grown significantly since November. (I tried to find the November picture - no luck yet.) I asked the ophthalmologist then to refer me to someone who could laser the thing out of there .
Update: I made an appointment for 2/21/08. And in the course of my mumbling about the difficulties of arranging an appointment (because of the timing of Milk's first two doses of medication each day), the receptionist said that she spoke with the ophthalmologist, and that they DO now " have the equipment and if I'd bring Scruffy in to see her on Friday at 8:45, instead of Thursday the 21st, she'd do the procedure that afternoon." I was so surprised that none of the normal questions occurred to me: 1) Is she talking about the laser treatment? Or removing his eye? In which case, I think I'd want a little time to get ready for that huge of an ordeal. To say nothing about blood work, etc. And fasting, and what to do about his insulin? 2) If they didn't have the equipment and she had never done laser stuff - which is what she told me at the last appointment - did she become an expert in three months? I really want someone to do this who's got
lots
and
lots
of experience.
I am dreading this whole thing, no matter how it turns out.