As we get closer (slowly, oh-so-slowly) to Scruffy's next ophthalmology appointment - 9/9/08 - I was thinking that it might be interesting to try to show the development of what's growing there all in one place. I have never received (or, to be truthful, requested) a copy of the ophthalmologist's report after an appointment. That should be on the list for the September visit, I guess. She doesn't know yet that his diabetes has been diet-controlled since April 9, 2008, either - we had had a mild conflict at the last appointment because she was insistent that he had to have a fructosamine before any procedure, and I had my meter with me, with more than 500 tests in the previous 3 months - much more valuable information than some test that would simply give the average of his levels for two weeks.
This came out somewhat better than I expected, but for some reason, the dates and text are moving all over the place, instead of sitting obediently where I efficiently, and with such great hope, put them. Rats.
**
11/5/05
**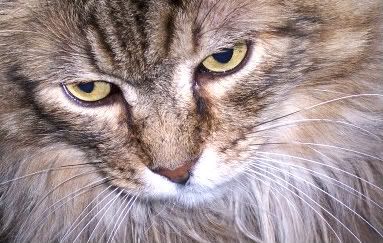 Tiny pinpoint of brown in the left eye. Going on three years ago now, which is hard to believe.
** 5/3/06 **
Although it's a little blurry, there's only the tiniest little dot in his left iris. Pinprick size, almost. And, at this time, there's no indication (to the naked eye) of anything in the right eye.
** 7/21/06 **
Hardly anything in right eye, left eye just slightly darker.
** 12/7/06 *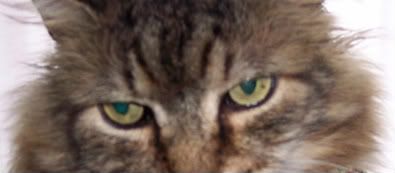 Slight but noticeable enlargement and darkening of the melanosis in the left eye. (At this point, the ophthalmologist was referring to these things as "iris nevi.") A fairly good-sized darkened area has developed in the right eye also.